SURGE PRINT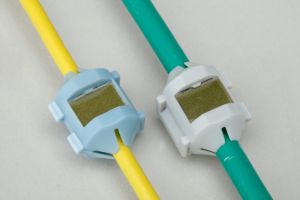 Product information
Product name: Surge print
Item code: (S) 11022851, (M) 11022852, (L) 11025863
Line Up
| Surge print size | Applicable cable size | Application IV line example |
| --- | --- | --- |
| S size | Φ3 to 4 | 1.25 sq to 3.5 sq equivalent |
| M size | Φ5 to 6 | 5.5sq ~ 8sq equivalent |
| L size | Φ7 to 11.5 | 14sq ~ 38sq equivalent |
| size | Dimensions (mm) | mass |
| --- | --- | --- |
| S | W16 x D19 x H12 (mm) | About 1 g |
| M | W16 x D19 x H12 (mm) | About 1 g |
| L | W25 x D37 x H19 (mm) | Approx. 2 g |
Notes on use
Surge printing is a product that uses magnetism, so do not place or install it near magnets or magnetic products. There is a risk of malfunction.
Do not attach surge prints to power lines or communication lines (motor control lines) where inrush current may flow. In response to large currents such as power supply current and inrush current, the target lightning surge current may not be detected.
The display content of the surge print is a guide only. Consider installing a lightning surge counter for accurate current value and frequency detection.
How to use
Attach the surge print to the line (ground line or communication line)
Just pinch the line with a surge print and close it.
Anyone can easily install.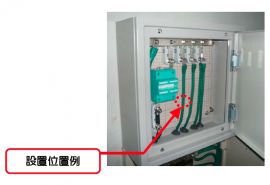 Surge print operation check
When a lightning surge passes, a black line appears on the display area of ​​the surge print.
You can see the approximate amount of surge current depending on the darkness of the line.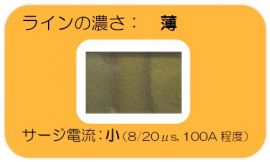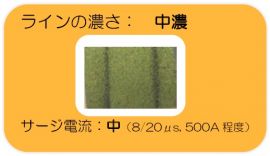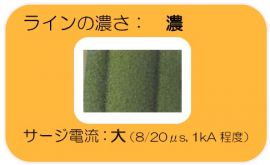 * The above operation display is a guide only. It may not respond to waveforms that are not typical lightning surge waveforms.